Early Access release track date: November 28, 2022
We're pleased to announce the release of TestRail 7.8 to all Early Access and Default release track Cloud customers. This release includes a new test data parameterization feature for Enterprise customers, Jira integration improvements, capabilities for the design and execution of BDD scenarios natively in TestRail, and a number of reporting and chart improvements. We've also radically improved the TestRail search functionality.
Early Access release track customers gave us great feedback on our WYSIWYG text editing implementation. While we're excited to introduce WYSIWYG functionality in the future we're going to take it "back to the shop" and work on it some more. We've removed the planned WYSIWYG text editing functionality from this release to carry out improvements based on great feedback. Watch this space for more news about improvements to test case creation and editing in a future release.
Any WYSIWYG content will be migrated to Markdown content as part of this release.
Test parameterization
It's now even easier to complete your work in less time with the introduction of test parameterization for TestRail Enterprise customers. Test parameterization gives you the ability to run the same test case with multiple inputs so that you can verify multiple scenarios without having to duplicate that test case. With test parameterization, you can achieve faster test case design, increased test coverage, and reduced test case maintenance. Learn more about test parameterization here.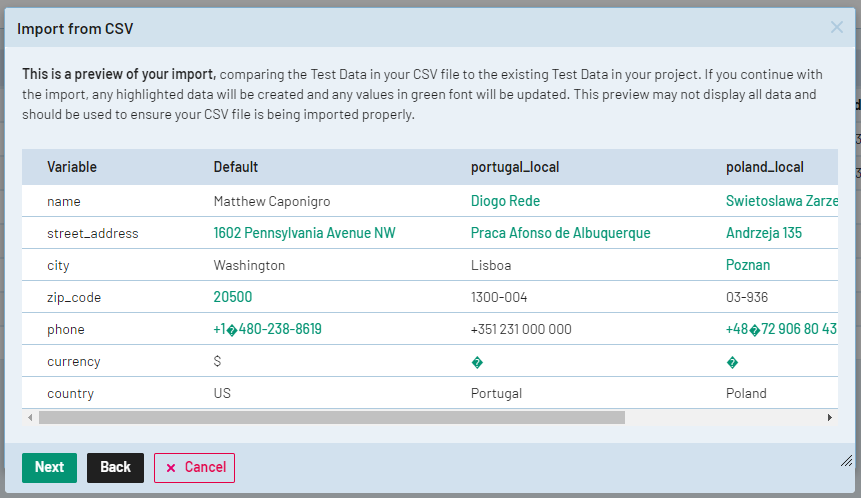 Jira integration improvements
Users on all TestRail plans can now streamline workflows through an improved Jira integration that allows all customers to edit Jira issues directly from within TestRail, link test plans and milestones to Jira issues, and provide increased visibility into associated TestRail data from within Jira. You can learn more about the bidirectional integration here.
New BDD template
You can now design and execute BDD scenarios natively in TestRail. Import and export feature files and use Gherkin keywords to give structure to your BDD testing activities in TestRail. For more details, check out the full BDD documentation here.
Improved search for TestRail
We're introducing big improvements to the search experience across TestRail Cloud instances:
You can search all text fields across all of your projects in your TestRail instance from your Dashboard

You can filter search results by category, date range, and more

You can see a list of items you've recently viewed, like test cases and runs
You can learn about more time-saving search functionality by checking out the full search documentation here.
Customizable charts
Customizable charts give you the power to get the information you need more quickly, directly from the Dashboard and Project Overview pages. View and explore data through cross-project reporting as well as the ability to filter and refine chart information. Learn how to customize and refine your charts here.

Ignore test results in reporting
Administrators can now configure an additional setting on your test statuses to exclude results from reporting. Using a custom status that is set to ignore test results helps ensure all information in your charts and reports is relevant to the current situation even if your scope of testing changes or cases are not yet ready for testing. Learn how to ignore test results in reporting here.

Property Distribution customizable stacking
You can now generate more detailed Property Distribution reports through the ability to customize your chart grouping. A second attribute can be selected so that you can stack test cases by a second attribute such as priority, automation type, created by, and more. Learn more about customizable stacking in the Property Distribution reports here.

Updating to the new version
TestRail Cloud instances will be automatically updated to the latest version and this update will roll out in the next week. You can check your version via the TestRail Help > About TestRail menu item in your instance.
On-premise versions of TestRail will follow on a later date to be announced soon.
TestRail Enterprise
Enterprise makes it even easier to oversee multiple testing projects across multiple teams, all in one place. To try the Enterprise plan at no cost to you, please email us for a trial or quote via contact@gurock.com, or you can use the contact form here.